Portable measuring
The advantage of portable measuring systems is obvious:
They allow the setup and use at different locations, since the setup can be carried out with quite little effort. Also, portable measurement systems are not limited to their original area of operation (measurement volume), which consequently allows measurements of larger objects or over longer distances.
Laser measuring devices are used whenever conventional tactile inspection methods are not feasible or impractical. Data is acquired in the form of high-resolution and detailed 3D point clouds. We can even image complex and reflective surfaces with high accuracy and repeatability for use in customer-defined evaluation.
By the way…most of our mobile measuring devices are also available for rent!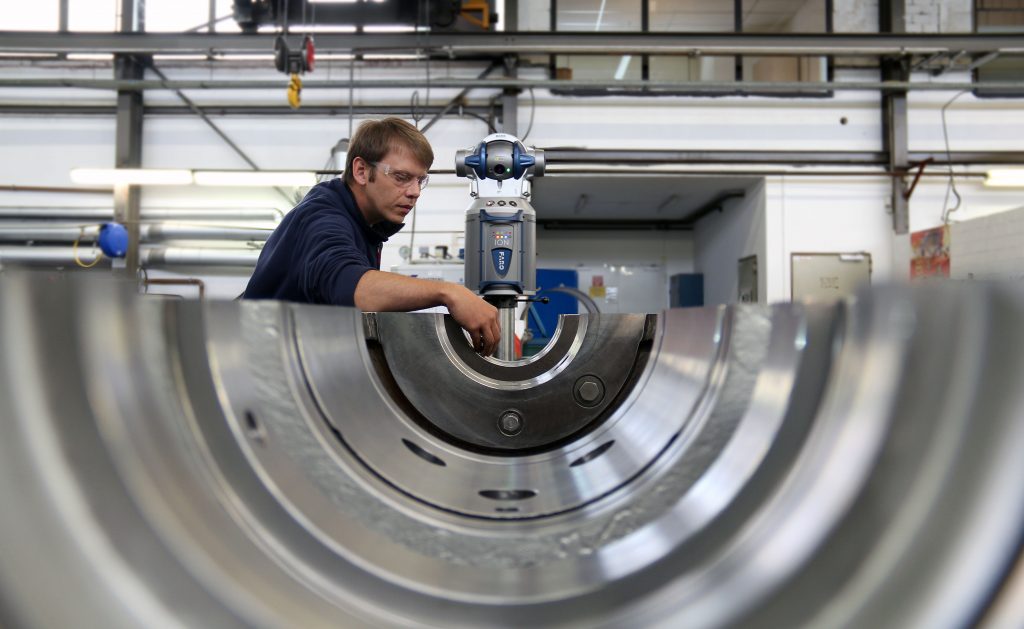 Measuring arms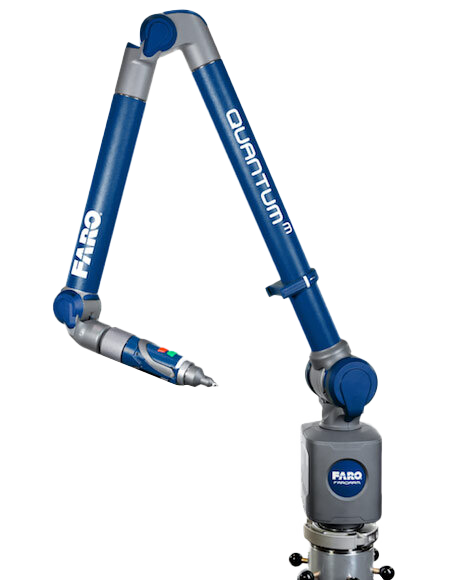 Quantum M / 3.5 m / 6-axis
| | |
| --- | --- |
| Manufacturer: | FARO |
| Max. Measuring radius: | 3500 mm |
| Axles: | 6 axles |
| Accuracy: | 0,0660 mm |
| Single-Point Accuracy: | 0,044 mm (SPAT) |
| Max. Position deviation: | 0,080 mm (LDIA) |
| Special features: | Can be used anywhere for location-independent tactile measurements with high flexibility |

Platinum 4-ft. Arm
| | |
| --- | --- |
| Manufacturer: | FARO |
| Max. Measuring radius: | 1200 mm |
| Axles: | 6 axles |
| Accuracy: | +/- 0.018 mm |
| Single-Point Accuracy: | 0,013 mm (SPAT) |
| Max. Position deviation: | mm (LDIA) |
| Special features: | Can be used anywhere for location-independent tactile measurements with high flexibility |
Scan arms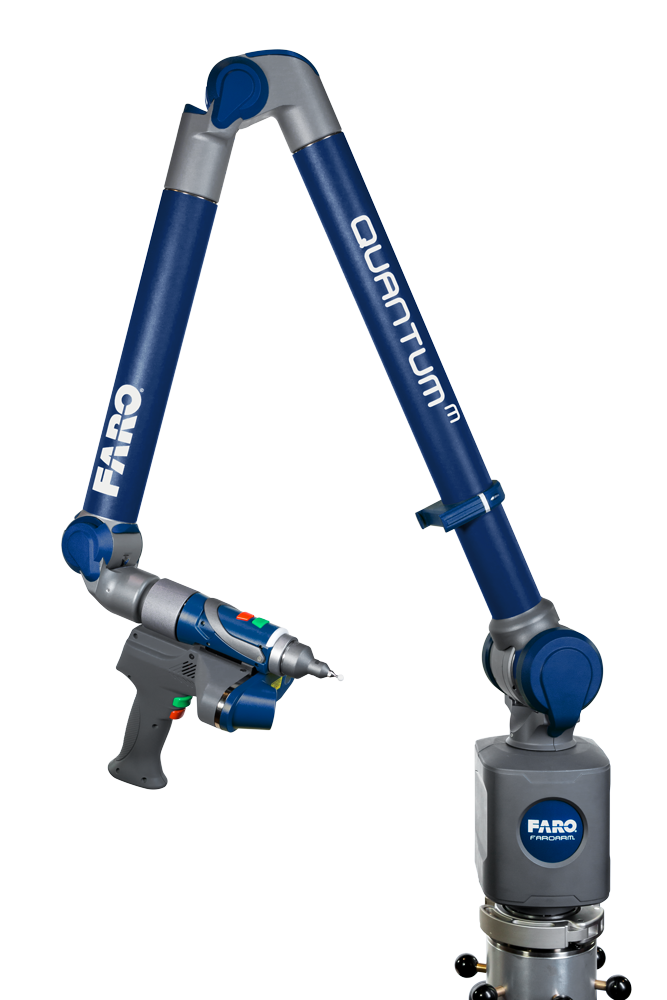 Quantum M / 3,5 m / 7-Achs
| | |
| --- | --- |
| Manufacturer: | FARO |
| Max. Measuring radius: | 3500 mm |
| Axles: | 7 axes |
| Accuracy: | 0,0800 mm |
| Single-Point Accuracy: | 0,055 mm (SPAT) |
| Max. Position deviation: | 0,110 mm (LDIA) |
| Special features: | Capture as a high-resolution, detailed 3D point cloud that maps even complex and reflective surfaces with high accuracy and repeatability |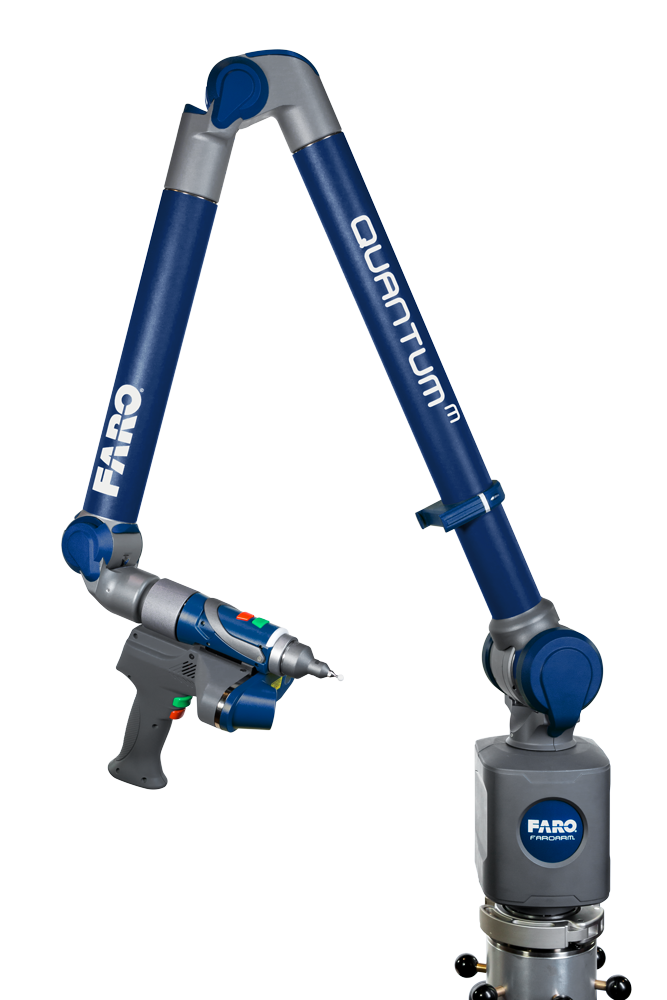 Quantum M / 4 m / 7-axis
| | |
| --- | --- |
| Manufacturer: | FARO |
| Max. Measuring radius: | 4000 mm |
| Axles: | 7 axes |
| Accuracy: | +/- 0,098 mm |
| Single-Point Accuracy: | 0,065 mm (SPAT) |
| Max. Position deviation: | 0,132 mm (LDIA)0,110 mm (LDIA) |
| Special features: | Capture as a high-resolution, detailed 3D point cloud that maps even complex and reflective surfaces with high accuracy and repeatability |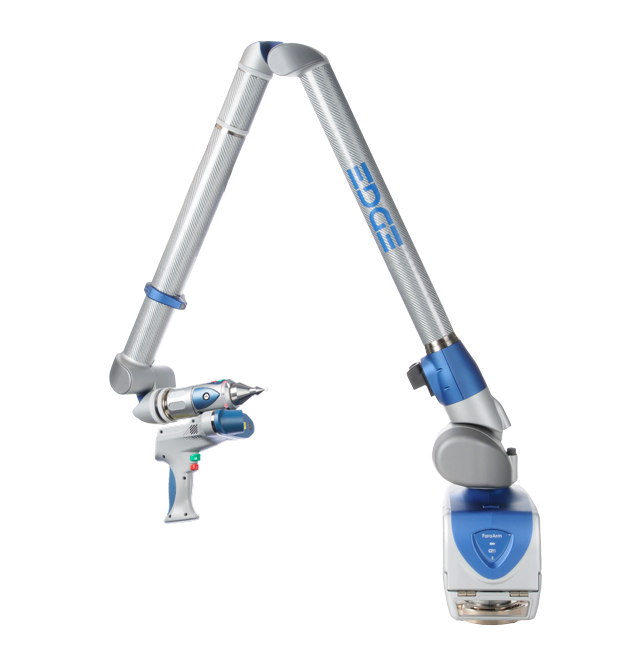 EDGE 9`/ 2,7 m / 7-axis
| | |
| --- | --- |
| Manufacturer: | FARO |
| Max. Measuring radius: | 2700 mm |
| Axles: | 7 axes |
| Accuracy: | +/- 0.041 mm |
| Single-Point Accuracy: | 0,029 mm (SPAT) |
| Max. Position deviation: | mm (LDIA) |
| Special features: | Capture as a high-resolution, detailed 3D point cloud that maps even complex and reflective surfaces with high accuracy and repeatability |
Laser tracker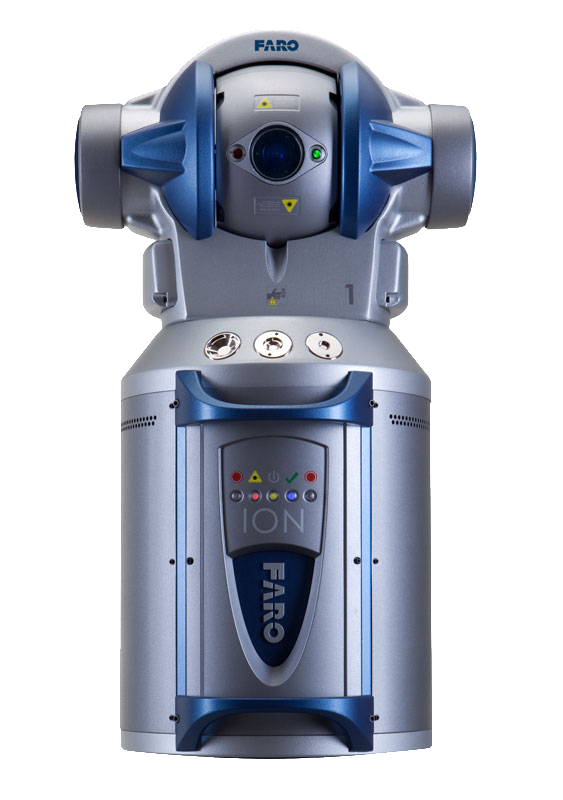 Laser Tracker ION
| | |
| --- | --- |
| Manufacturer: | FARO |
| Max. Measuring radius: | 40 – 55 meters (reflector dependent)2700 mm |
| Accuracy: | 16 μm + 0,8 μm/m |
| Pivot range: | ± 270° hori. / 125° (+72.5° bis -52.5°) verti. |
Aigeles ADM
| | |
| --- | --- |
| Resolution: | 0.5 μm |
| Scanning speed: | 10.000 points/sec. |
| Accuracy (MPE): | 8 μm + 0.4 μm/m |
| R0 parameter (MPE): | 8 μm |
| Special features: | Flexible and precise measurement even of heavy or large-volume workpieces |
Gom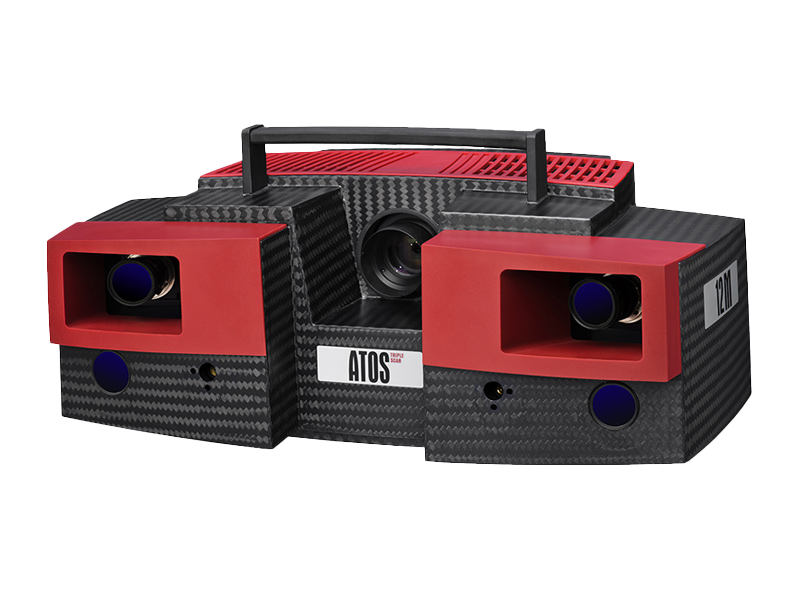 ATOS Triple Scan
| | |
| --- | --- |
| Manufacturer: | GOM |
| Max. Measuring radius: | 1200 mm |
| Axles: | 6 axles |
| Accuracy: | +/- 0.018 mm |
| Single-Point Accuracy: | 0,044 mm (SPAT) |
| Max. Position deviation: | 0,080 mm (LDIA) |
| Special features: | Acquisition as strip chart |